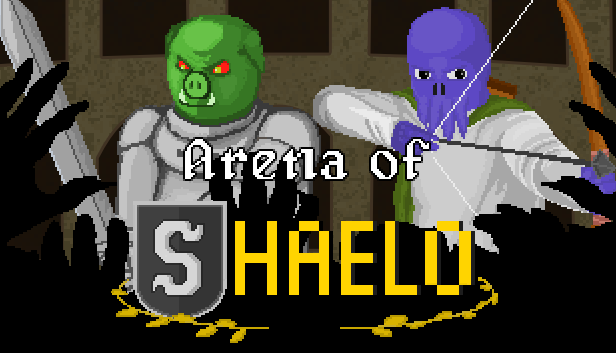 ---
Download
Description
Arena of Shaelo is a pixelated co-op card game set in the world of Shaelo.

Your somewhat cozy life in one of Shaelo's richer parts of the country, inhabited mainly by Squeans and occasional Swyrr migrants is interrupted by an arrival of a letter. Upon reading it, you learn that your uncle, now living at the other side of the kingdom, has fallen ill.

Upon learning about your uncle's malady, you and your friend hastily set off to pay him a visit. Unfortunately, during your journey you are captured by one of countless Shaelo's dukes. Though suspected of plotting against the Z'buck race, you are given a chance to redeem your freedom. In order to do so, you have to defeat all the reigning champions of the Arena of Shaelo.
Features
2-player couch CO-OP
3-4 hours of game-play
Unique cards for both players
Opening cards through progression
Solid teamwork required in order to finish the game. As the game progresses you are required to play with different cards and switch between more various play styles.
Increasing difficulty. As you progress, the round timer might change in order to make for a more challenging experience.
Over 30 unlockable levels available
100% FREE, NO HIDDEN COSTS
No secret level

COUCH CO-OP ONLY
2 INPUT DEVICES REQUIRED TO PLAY
▽▽▽ SUPPORTED CONTROLLERS BELOW ▽▽▽
X-BOX GAMEPADS, KEYBOARD, MOUSE

WARNING: This game is intended for 2 players, only that way you can fully experience the game of Shaelo 😉
Donations
If you like the game, we would like to ask you to consider donating any amount you feel comfortable with. As the game is and always will be 100% free, this is the only way for us to raise funds for our future projects. Depending on the feedback from players we receive a next game of this type with better gameplay and progression mechanics might be a possibility.
Thank you.
| | |
| --- | --- |
| Method | Address |
| Bitcoin | 1EjEVRK2YJTAkr8LTcSfBCfwpotmfTt771 |
|  Litecoin | LQE4DZwP6C7gfooXQBQ1EQxVTwBFTPzSii |
|  Nano | xrb_3fyffwmhzy8ecmfzkszmh7ofxwf135oswwfcfe1me348fim4gdzbb4yr5c6s |
|  Enjin | 0x8b758D29d65642dBeF6AF37fdfF5A1bf0AF524e7 |
|  PayPal | arenaofshaelo@disroot.org |
Recent Posts

Archives

Meta